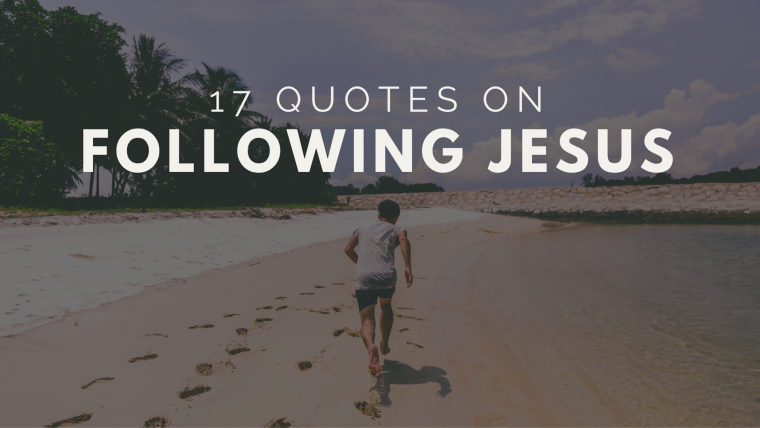 1.  "Christianity without discipleship is always Christianity without Christ." – Dietrich Bonhoeffer 
2.  "God is most glorified in us when we are most satisfied in Him" – John Piper
3.  "Radical obedience to Christ is not easy… It's not comfort, not health, not wealth, and not prosperity in this world. Radical obedience to Christ risks losing all these things. But in the end, such risk finds its reward in Christ. And he is more than enough for us." – David Platt
4.  "We never grow closer to God when we just live life. It takes deliberate pursuit and attentiveness." – Francis Chan
5.  "We fear men so much, because we fear God so little." – William Gurnall
6.  "I have never met the man I could despair of after discerning what lies in me apart from the grace of God." – Oswald Chambers
7.  "We need never shout across the spaces to an absent God. He is nearer than our own soul, closer than our most secret thoughts" – A.W. Tozer
Want to know God in a deeper way? I just released a FREE 4 week audio course + daily devotional called, Journey. 
Get your copy today!
8.  "But whatever you do, find the God-centered, Christ-exalting, Bible-saturated passion of your life, and find your way to say it and live for it and die for it. And you will make a difference that lasts. You will not waste your life." – John Piper
9.  "The bottom line in the Christian life is obedience and most people don't even like the word." – Charles Stanley
10.  "Words can never adequately convey the incredible impact of our attitudes toward life. The longer I live the more convinced I become that life is 10 percent what happens to us and 90 percent how we respond to it." – Chuck Swindoll
11.  "Following Jesus isn't something you can do at night where no one notices. It's a twenty-four-hour-a-day commitment that will interfere with your life. That's not the small print—that's a guarantee." – Kyle Idleman
12.  "The Christian faith is meant to be lived moment by moment. It isn't some broad, general outline–it's a long walk with a real Person. Details count: passing thoughts, small sacrifices, a few encouraging words, little acts of kindness, brief victories over nagging sins." – Joni Eareckson Tada
13.  "Whenever anything disagreeable or displeasing happens to you remember Christ crucified and be silent." – John of the Cross
14.  "To believe one does not need counsel is great pride." – Basil the Great
15.  "There's no greater lifestyle and no greater happiness than that of having a continual conversation with God." – Brother Lawrence
16.  "You have made us for yourself, and our heart is restless until it rests in you." – Augustine
17.  "When Satan reminds us of our past, we should remind him of his future." – Unknown 
---
For more content on this topic, check out the How to Follow Jesus in the 21st Century blog series.