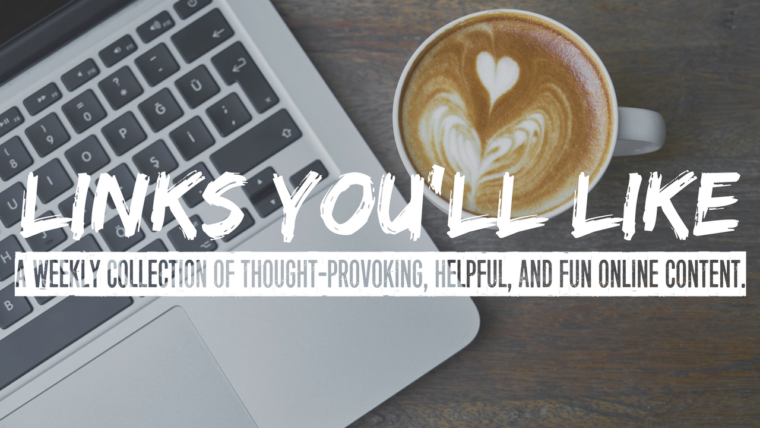 Every week, I will be sharing a collection of thought-provoking, helpful, and fun online content that I think you'll like. I want to help you infuse faith into your life and the broader culture. My hope is that this content will help you do both.
Links You'll Like
Every Book of the Bible in One Word – by Garrett Kell
God reveals himself through his Word. When he speaks, he teaches us what he is like, how he acts, and how he desires us to respond. As a whole, the Bible is about God. It's about God the Father displaying his glory through God the Son by the power of God the Holy Spirit.
5 Views of Christianity & Politics – Not So Black and White Podcast
This is a great place to begin to understand your own political views as well as the political approaches of your brothers and sisters in Christ. At the end of this episode, not only will you have greater clarity about the history and formation of your own views, you'll have a lot more grace too.
AI Is Inventing Languages Humans Can't Understand. Should We Stop It? – by Mark Wilson
Researchers at Facebook realized their bots were chattering in a new language. Then they stopped it.
3 Reasons it's Hard to Follow Jesus – by Jordan Standridge
Recently, I've suffered the heartbreak of watching a couple of students choose the world over the Savior. Nothing discourages me more in this life than watching young people walk away from the Lord.
Yes, you really should mark up your books – by Aaron Armstrong
Some of you got chills as you read that headline, I know. You hate the idea of writing in books. You want to keep them pristine. You try never to crack the spine, I bet. (I say this as someone who used to try to avoid this, so I'm not making fun.) I get it. I really do. But you know what? You might not like it, it's true:
This Isn't The Same Lecrae – by Aaron Cline Hanbury
Speaking out about racial injustice almost cost him everything. And it changed everything.
American Churches Have a Better Reputation Than Higher Ed or the Media – by Kate Shellnut
Institutional trust continues to decline in surveys, but religious organizations still rank high.
30 Prompts for Reflection on Your Integrity – by Brett and Kate McKay
The word integrity is related to the roots of words like "integrate" and "entire," and its Latin root means "wholeness." Integrity thus implies the state of being complete, undivided, intact, and unbroken. Such a state contrasts with one that is scattered, fragmented, and incomplete.
How to Become a Better Reader – by James Emery White
One of the most frequent questions I get is how to keep up with culture. My stock answer is to read voraciously. Then the follow-up comes: How can I become a better reader?
The 4 Faith-Shaping Books You Should Read Next – by Bryan A. Sands
They may be challenging.
Articles By Me This Week
The Hidden Thing Christians Can Learn From Personality Tests
5 Things Christian College Students Should Know About Career and Calling
Engage Culture With the Gospel
I'd love to go on this journey of following Jesus with you and help you engage culture with the gospel. So let's be email friends. I'd love to send you a copy of my two free eBooks: Bible Hacks: Understanding the New Testament and Do Something: Cultural Crises and the Gospel. And I'd love to give you my free daily devotional: Journey to Knowing God. You'll get all this (and updates with new content) when you subscribe to the blog.