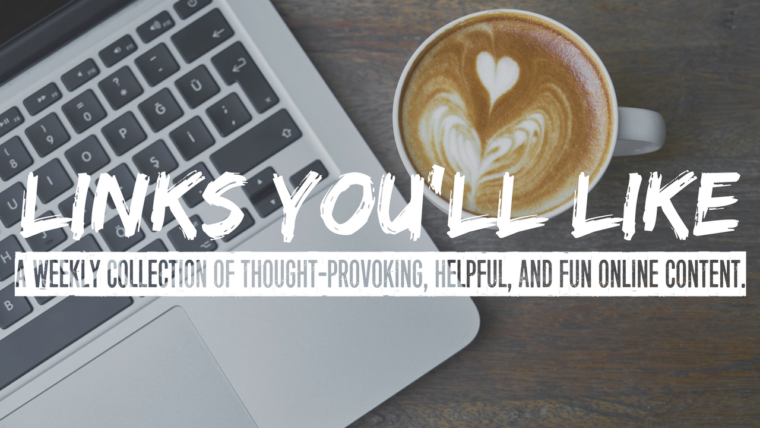 Every week, I will be sharing a collection of thought-provoking, helpful, and fun online content that I think you'll like. I want to help you infuse faith into your life and the broader culture. My hope is that this content will help you do both.
Links You'll Like
3 Spiritual Reasons to Do Something You're Not Good At – by Michael Kelley
As I'm writing this, I'm just a few hours away from when I will lace up my tennis shoes and play a 5 on 5, full court basketball game.

To be clear: I didn't even make the junior high basketball team.
"My side, right or wrong" – by Seth Godin
Just give this a read.
10 Signs Of Highly Successful Leaders With Grit – by Brian Dodd
You cannot have success without grit. It is inherent in successful leaders.
7 Inspiring Writing Tips From On Writing Well – by Monica M. Clark
In case you like to write…
The One Time When Sleep Is Bad For You – by Marvin Williams
There are all kinds of studies that tell us that sleep is good for us. But, as I was reading Luke 22 the other day, I recognized the one time when Jesus said that sleep was bad for us.
From The Seahawks to Seminary – by Jared C. Wilson
I then learned that Tyler had come to the Midwest to train for the pastorate after surrendering a promising ambition to play in the NFL.
When a book isn't enough – by Aaron Armstrong
For the last year, I've been trying to better understand the experience of people of different ethnicities—particularly African Americans. I'm not going to pretend that I'm unfamiliar with racism. Racism exists within Canadian culture, just as much as in any other. But what we read and see on the news here… It's different.
Spiritual Formation is about Story – by Scot McKnight
This series is what happens when Dallas Willard meets N.T. Wright!
If you're not following Mike Lee, you need to change that right away. They just released a new album. Links are in the YouTube description.
This was wild. Wildly cool!
Articles By Me
Warning: Ignoring This Will Seriously Damage Your Walk With God
Engage Culture With the Gospel
I'd love to go on this journey of following Jesus with you and help you engage culture with the gospel. So let's be email friends. I'd love to send you a copy of my two free eBooks: Bible Hacks: Understanding the New Testament and Do Something: Cultural Crises and the Gospel. And I'd love to give you my free daily devotional: Journey to Knowing God. You'll get all this (and updates with new content) when you subscribe to the blog.