So, about the Church… When I first began interacting with her, it was at a large Assemblies of God congregation in my hometown of Fort Wayne, IN. I saw the work of God in a couple close to me and I asked them if I could go to church with them! I was drawn to what they knew and what I didn't. At that large Assemblies of God congregation I was confronted with the sheer magnitude of people who were there, the powerful music, and the powerful spoken messages. I knew something special was going on.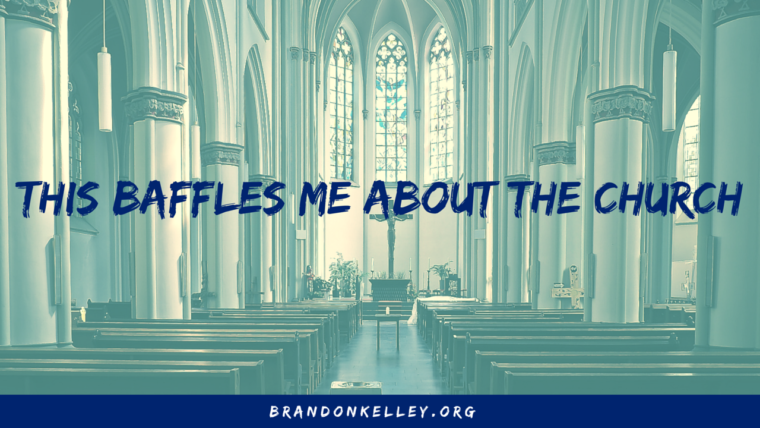 Since then, I've read the Bible, become a Jesus follower, and even followed God's call into vocational ministry. Yes, since then I've become confronted with something entirely different than my first experience. No longer am I the person who has never been to a church gathering and asking people to go to church with them – I'm the one asking others to come with me now (no one has asked me if they could go to church with me yet). Back to the point about the Church… Yes, let's talk about that.
This Baffles Me About the Church
If you're like me and many other cool people, you've watched the Rocky movies many times and you always get FIRED UP when the Rocky music comes playing. You get excited and jacked up for what's about to happen. Yes, so good. 
Well, there's a statement by Jesus in the Bible where the Rocky music would be well served to begin playing. Peter has just made the good confession that Jesus is the Christ of God – He is the One they have been expecting. And it's on this statement, this confession that Jesus says this (cue Rocky music):
17 And Jesus answered him, "Blessed are you, Simon Bar-Jonah! For flesh and blood has not revealed this to you, but my Father who is in heaven. 18 And I tell you, you are Peter, and on this rock I will build my church, and the gates of hell shall not prevail against it. (Matthew 16:17-18)
On this rock, the rock of the confession of Peter that Jesus is the Christ, the Messiah, the Savior, He will build His church. AND the GATES OF HELL SHALL NOT PREVAIL AGAINST IT!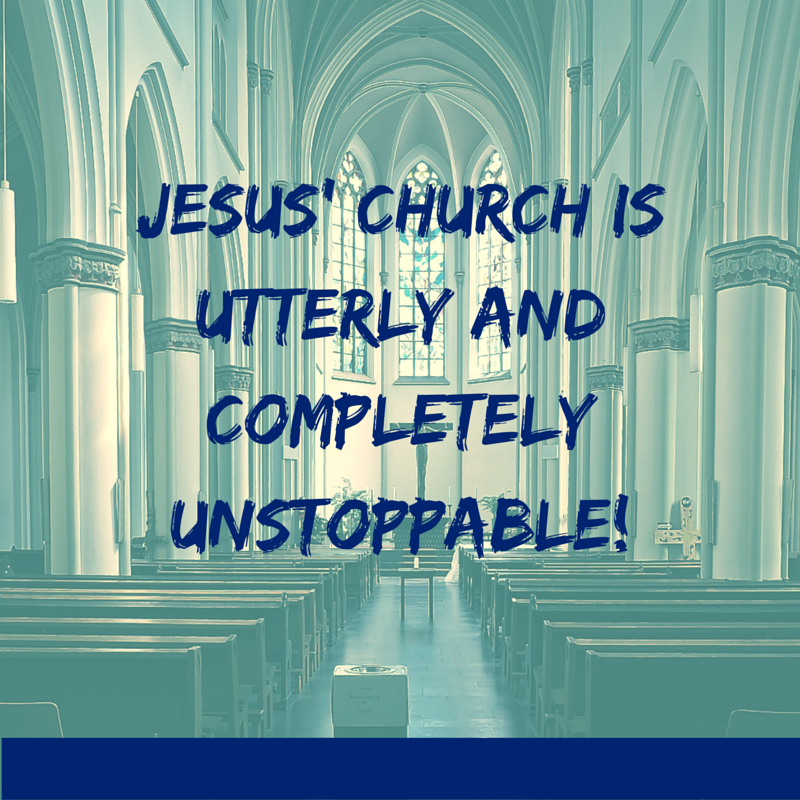 Jesus' Church is utterly and completely UNSTOPPABLE! If you don't believe it, you're not believing Jesus. Nothing in this realm or in any other realm will stop the Church from advancing, from evangelizing, from conquering sinful hearts with the love of our leader. The Church of Jesus is not, will not, and cannot be stopped. The enemy wants to stop it, but he shall not prevail. He shall fail. 
Heck, we already know how this is going to end. God is on the throne today and He will be there forever. 
So why in the world does the Church operate from a place of FEAR every single day?!?!
Especially in America. We're the wealthiest Jesus followers in the history of existence and yet we're the most fearful. We're afraid of persecution that isn't even happening. We're afraid of people disagreeing with us while Christians in Kenya go to a church gathering knowing that people could be outside the doors ready to gun them down when they leave. We don't gather with the Church because we want to sleep, or golf, or have a day to ourselves, or relax, or whatever.
This happens personally in the lives of individual Christians and corporately in the lives of whole local churches. 
We don't take a bold leap of faith for fear of failing.
We don't engage the needy because… well, they are needy.
We gather on a Sunday and are satisfied that there are a lot of people there.
Would Jesus if that were His main statistical metric?
The Church should be the most innovative, caring, culturally aware, socially engaged, loving group of people the world will ever know. Too often, rather, we are the group of people who let politicians manipulate our fear, who innovate 20 years late, who argue about petty matters of no significance, who are happy with participation awards, who are last to speak hard truths, who are last to give grace to someone who screwed up, who don't call people to a life beyond themselves (that's the whole point, yeah?), who avoid the mess of ministry, and so much more.
Why do we operate this way? Why is this what we do? Because we have allowed fear to take over and we are not looking at life, at our communities, at this world with eyes of faith. 
Instead, we have settled for a weird version of the American Dream with a little Jesus thrown in as seasoning to add some flavor. Should we be surprised that we operate from fear when our foundation is so unhinged and unstable?
The gates of hell shall not prevail against God's Church, y'all. So let's stop operating from fear and begin to see with eyes of faith. 
Excuse me while I continue preaching this to myself…
Grow Your Faith and Grow Your Impact
I'd love to go on this journey with you and help you grow your faith and your impact. So let's be email friends. I'd love to send you a copy of my two free eBooks: Bible Hacks: Understanding the New Testament and Do Something: Cultural Crises and the Gospel. And I'd love to give you my free daily devotional: Journey to Knowing God. You'll get all this (and updates with new content) when you subscribe to the blog.