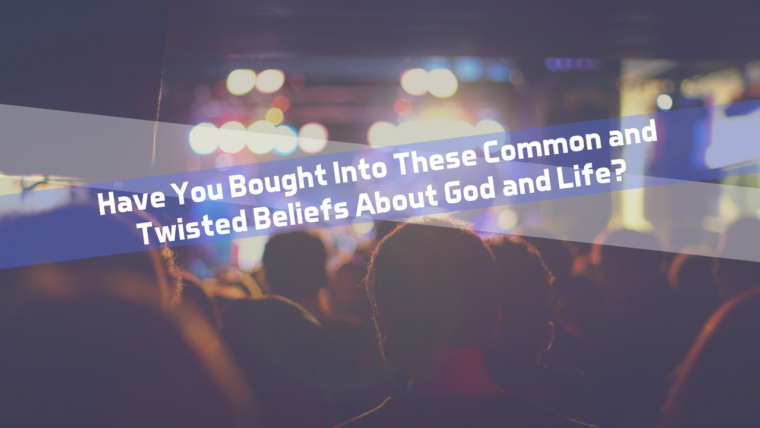 In 2005, Sociologist Christian Smith, along with Melina Lundquist Denton, published research they did at the University of North Carolina and the results were quite telling. They set out to discover the real religious beliefs of teenagers. Today, these beliefs are not just confined to those teenagers who are now twelve years older, but I believe these beliefs have crept into much of western culture.
Before we look at the five main beliefs Smith and his team discovered, it's important for us to be aware that at first glance, these common and twisted beliefs about God and life seem okay. When you see them, you may think what's the big deal? But I propose to you that these beliefs are radically anti-Christian and unfortunately present in the Church. So, have you bought into them? Let's see.
Have You Bought Into These Common and Twisted Beliefs About God and Life?
From their findings, Smith and his team termed the belief system as Moralistic Therapeutic Deism. It consists of 5 beliefs:
"A god exists who created and ordered the world and watches over human life on earth."

"God wants people to be good, nice, and fair to each other, as taught in the Bible and by most world religions."

"The central goal of life is to be happy and to feel good about oneself."

"God does not need to be particularly involved in one's life except when God is needed to resolve a problem."

"Good people go to heaven when they die."
The question is, from here, do any of these statements of belief sit well with me?
Albert Mohler, in his article where he outlines their findings and offers his own response to them, points out something important:
The researchers, who conducted thousands of hours of interviews with a carefully identified spectrum of teenagers, discovered that for many of these teens, the interview itself was the first time they had ever discussed a theological question with an adult. What does this say about our churches? What does this say about this generation of parents?
Now, remember this research was done twelve years ago and the focus was on teenagers. Mohler's questions are important, but today we must ask a question of ourselves: have I thought through what I believe about God and life? And then a follow-up question is in order: by what or who is my belief about God and life informed by?
Why These Beliefs Are Twisted
Let's consider each of these:
"A god exists who created and ordered the world and watches over human life on earth."

At first and second glance, this statement doesn't seem harmful at all. But the first two words are telling. "A god" speaks to an underlying belief that who God is is quite irrelevant. All we need to know is that a god is there, somewhere. He created the world, ordered the world, and watches things unfold – popcorn in hand.

Contrast this statement with what we see in Scripture:

1 God is our refuge and strength, 

a helper who is always found 

in times of trouble. 

2 Therefore we will not be afraid, 

though the earth trembles 

and the mountains topple 

into the depths of the seas – Psalm 46:1-2 (CSB)

The heavens proclaim his righteousness, 

for God is the Judge. – Psalm 50:6 (CSB)

This is what the

Lord

, the King of Israel and its Redeemer, the

Lord

of Armies, says: I am the first and I am the last. There is no God but me. – Isaiah 44:6 (CSB)

For the entire fullness of God's nature dwells bodily in Christ – Colossians 2:9 (CSB)

As Christ followers, our understanding of God comes from what He has said about Himself in His word. He is a refuge, a source of strength, a helper, the righteous Judge, King, Redeemer, the only God, and God is Christ and Christ is God. There's far more we could discover about who God is as He has informed us in His word. Nonetheless, He is clearly more than "a god."

"God wants people to be good, nice, and fair to each other, as taught in the Bible and by most world religions."

This sounds cute and cuddly. This sounds peaceful and biblical. Let's be good, nice, and fair to each other. That's what the Bible says, after all? But let's zero in on something… Fairness. Do we really want that? Is that really what the Bible advocates for? On some level, sure. But for followers of Jesus, for those who are living into the purpose God has for them? That's the last thing we are called to.

Does God want us to be good? Sure. But what do we mean by good? Our flawed and moving definition or His? His definition of good is perfection: "You therefore must be perfect, as your heavenly Father is perfect" (Matthew 5:48, ESV). Yeah, good luck with that, right? And that's exactly the point. Apart from Christ, we are damned. But wrapped in His perfection, we are counted as perfect.
But what about being nice? Again, what does that mean? Does this mean we are to be friends who lie to one another to make sure we both feel good? Biblical community is shaped by Christ and His love for us. His love is sacrificial, it goes far beyond nice. God wants people to love each other enough to point them to truth: "Brothers and sisters, if someone is overtaken in any wrongdoing, you who are spiritual, restore such a person with a gentle spirit, watching out for yourselves so that you also won't be tempted" (Galatians 6:1, CSB).
God wants people to be fair? Jesus shows us quite a different way: "You have heard that it was said, An eye for an eye and a tooth for a tooth.39 But I tell you, don't resist an evildoer. On the contrary, if anyone slaps you on your right cheek, turn the other to him also" (Matthew 5:38-39, CSB). Justice surely is something to live for. Being people who are shaped by sacrificial love, we should bring about justice for others in this world. But justice for our own selves? That's a different story. 

"The central goal of life is to be happy and to feel good about oneself."

This is individualism and narcissism at its best. This is the American Dream wrapped up in metaphysics. This is "a god" existing to serve his creation. But what if this is a pile of crap wrapped in a well-researched and well-marketed box? What if being happy and feeling good about oneself are the exact opposite of the central goal of life? What if believing this cashes our check to a miserable existence?

Let's see what Scripture says is the central goal of life:

Just as each one has received a gift, use it to serve others, as good stewards of the varied grace of God.

11 If anyone speaks, let it be as one who speaks God's words; if anyone serves, let it be from the strength God provides, so that God may be glorified through Jesus Christ in everything. To him be the glory and the power forever and ever. Amen. – 1 Peter 4:10-11 (CSB), emphasis mine

I will say to the north, Give up, 

and to the south, Do not withhold; 

bring my sons from afar 

and my daughters from the end of the earth, 

7 everyone who is called by my name, whom I created for my glory, whom I formed and made. – Isaiah 43:6-7 (ESV), emphasis mine
So, whether you eat or drink, or whatever you do, do all to the glory of God. – 1 Corinthians 10:31 (ESV), emphasis mine
Therefore, say to the house of Israel, thus says the Lord: "It is not for your sake, O house of Israel, that I am about to act, but for the sake of my holy name which you have profaned among the nations to which you came.  And I will vindicate the holiness of my great name. . .  It is not for your sake, that I will act says the Lord God; let that be known to you. Be ashamed and confounded for your ways, O house of Israel" – Ezekiel 36:22, 23, 32 (ESV), emphasis mine

The world does not revolve around us. We, along with every other piece of creation, exist for God's glory. We exist to display, make known, and praise the great glory of God. That's quite different from the picture we get from living life as if our chief purpose is to be happy and feel good about ourselves.

"God does not need to be particularly involved in one's life except when God is needed to resolve a problem."

This breaks my heart because it is only in God and through God that we discover what life is really about. God is far greater than the problems we bring to the table. But He is no genie in a bottle and, unfortunately, that is what this statement of belief operates from – God as genie.
The truth is, God must be completely involved in our lives if we want to have any hope of even breathing our next breath. We have no hope of existence without the full and willing participation in life and sustaining of life by God, because He "is before all things, and in him all things hold together" (Colossians 1:17, CSB).
So God is involved in one's life, whether that reality is realized or not.

We cannot exist apart from Him. It's impossible. He hasn't only created us, but He also sustains us. Every breath is a gift. A gift of grace from the God of grace.

"Good people go to heaven when they die."

I've already addressed this exact belief. You can read the full treatment here: 

The Truth About Good People Going to Heaven

But let's just look at a couple passages that are outlined in that article.

For all of us have become like one who is unclean, 

And all our righteous deeds are like a filthy garment; 

And all of us wither like a leaf, 

And our iniquities, like the wind, take us away. – Isaiah 64:6 (NASB)

For by grace you have been saved through faith; and that not of yourselves, it is the gift of God; 9 not as a result of works, so that no one may boast. – Ephesians 2:8-9 (NASB)

It is only by an act of grace through Jesus Christ that anyone can "go to heaven."

To read more about this, read the following articles:
The Way Forward
It's quite easy to begin buying into our culture's beliefs about God and life. But we need not live in isolation or in fear. We don't need to get a bunch of Christians together, buy a bunch of land, and live away from everything. What we must do is be who we already are in Christ: salt and light.
We must equip ourselves with the word of God and live life in the armor of God. We must know what we believe and why. And then, we must go into the world and do all we do for the glory of God.
Engage Culture With the Gospel
I'd love to go on this journey of following Jesus with you and help you engage culture with the gospel. So let's be email friends. I'd love to send you a copy of my two free eBooks: Bible Hacks: Understanding the New Testament and Do Something: Cultural Crises and the Gospel. And I'd love to give you my free daily devotional: Journey to Knowing God. You'll get all this (and updates with new content) when you subscribe to the blog.