The change in your life is quickly killing you. It's killing your ability to trust in anything or anyone. You don't look as you did ten years ago. You don't think as you did five minutes ago. Your understanding is ever-expanding or it is diminishing – it isn't staying the same… Change. It's quickly killing your peace. You're in search of it, remembering how things used to be. So what do we do?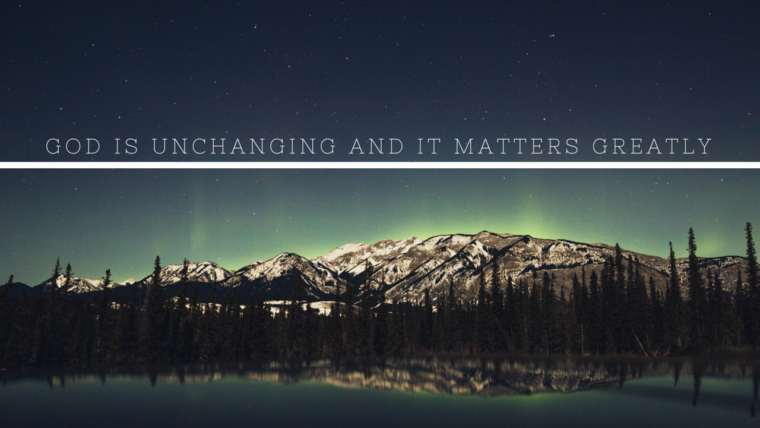 Life is like weather in the Midwest region of  the United States. One minute it is sunny and 75 degrees, and the next, it is snowing and 30 degrees. Change. It happens. All. The. Time. You're happy then you're not. You're stressed then you're stressed even more. Your kids are little then they're not (my oldest just turned 3 years old!). 
God is Unchanging and It Matters Greatly
Progression. Regression. Whichever is in effect depends on your perspective. Would things really be better if they went back to the way they used to be? Funny thing is, back in the day, we hoped for a better future. What resulted?
It doesn't matter.
Instead, what does matter is this: God is unchanging.
Why?
It matters because your life is ever-changing and you can't handle it. The sins you struggle with are changing. The aches your body experiences are changing. The problems that plague your mind are changing. It matters because what is on the surface of life is overwhelming.
New Paint or a New Foundation
Realizing that God is unchanging is coming to the knowledge that no matter how many times the exterior of your house changes, your foundation (as long as it is strong) stays the same. You may put new siding on or paint it a new color, but your foundation? Yes, as long as it is strong, you need not worry.
Why?
The foundation is the first and foremost important feature of your home. Without it, everything else would come tumbling down (no matter how new your siding is).
What Peace it Brings
I'll let A.W. Tozer speak to you for a moment:
What peace it brings to the Christian's heart to realize that our Heavenly Father never differs from Himself. In coming to Him at any time we need not wonder whether we shall find Him in a receptive mood. He is always receptive to misery and need, as well as to love and faith. He does not keep office hours nor set aside periods when He will see no one. Neither does He change His mind about anything. Today, this moment, He feels toward His creatures, toward babies, toward the sick, the fallen, the sinful, exactly as He did when he sent His only-begotten Son into the world to die for mankind. – From his book, The Knowledge of the Holy
James 1:17 says, "Every good gift and every perfect gift is from above, coming down from the Father of lights with whom there is no variation or shadow due to change." When it comes to God, there is no variation, no change. He is the same today as He was yesterday and He will continue to be so tomorrow.
The Day it Happened
The day Jesus stretched His arms on the cross at Calvary, God punished sin because He loves you. Today, He feels the same about you. He loves you today. He will love you tomorrow. 
The house that is your life is changing, but the foundation is forever-strong and forever-unchanging. If, that is, your foundation is the loving Father of Heaven. 
If you build your life on the rock as Jesus put it, when change comes in (storms, pain, grief, loss, death), you will get through. You'll get through to see the beauty after the storm. You'll get through to see the healing that comes with pain. You'll get through to see the joy that comes after grief. You'll get through to see the loss as their gain. You'll get through to see death as a pathway to real life.  
God is unchanging and it matters greatly.
He is at work and always has been.