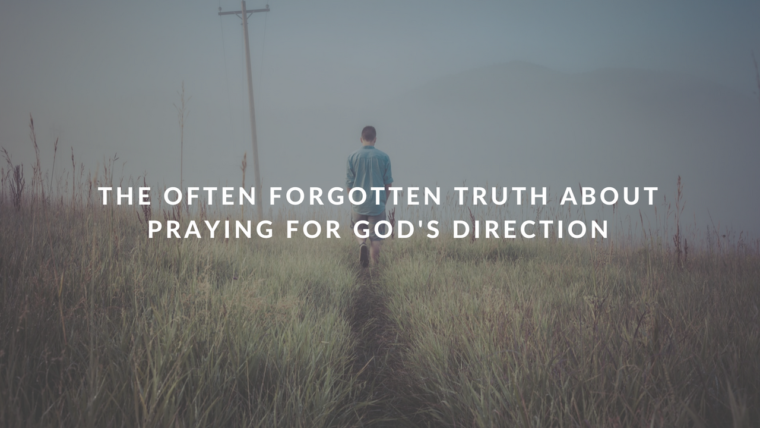 Have you ever begun praying for God's direction and, after weeks, months, or even years, arrived at the conclusion that God didn't give you an answer? If you can answer yes to that question, then this is for you.
Life is full of difficult decisions and plenty of forks in the road. So, what do we do when we come upon them? We, God's children, pray. We seek our Father's direction. We ask Him what to do and how to do it. We plead with Him for answers. Sometimes, we sense a crystal clear answer being communicated to our spirit by the Spirit of God. Other times, we sense our questions being unanswered. We sense silence.
The Often Forgotten Truth About Praying for God's Direction
It's the early morning. It's the late evening. It's that time when you bow your head and speak to your Heavenly Father. Picture it. Be there.
Are you there?
Answer this question: when you are praying for God's direction, what are you really seeking?
A destination?
Or a direction?
The often forgotten truth about praying for God's direction is God always gives us direction, but we're usually looking for a destination.
We Shouldn't Be Surprised
Now the Lord said to Abram, "Go from your country and your kindred and your father's house to the land that I will show you." – Genesis 12:1
When God called Abraham, He gave him a direction, not a destination. The destination wouldn't be revealed until Abraham got up and set out in the direction he was told to go.
We often forget that God has already given us the general direction for us to go.
While we are looking for a destination, God is giving us a direction. The difference between the two is massive.
"You've Arrived"
Can I just be honest? I wholeheartedly wish this were different. I wish God would give us a destination to run toward. I really do.
Have you ever taken the Gallup Strengthsfinder Test? I have and it revealed something in me that causes quite a bit of internal tension in me as a follower of Christ (especially as a pastor). The test is great for understanding your foundational wiring as a person. What they do is create a profile that combines your top five strengths. It was eye opening when I saw my top strength.
What is it? Achiever. Here's how they describe this strength theme:
Your Achiever theme helps explain your drive. Achiever describes a constant need for achievement. You feel as if every day starts at zero. By the end of the day you must achieve something tangible in order to feel good about yourself. And by "every day" you mean every single day—workdays, weekends, vacations. No matter how much you may feel you deserve a day of rest, if the day passes without some form of achievement, no matter how small, you will feel dissatisfied. You have an internal fire burning inside you. It pushes you to do more, to achieve more. After each accomplishment is reached, the fire dwindles for a moment, but very soon it rekindles itself, forcing you toward the next accomplishment. Your relentless need for achievement might not be logical. It might not even be focused. But it will always be with you.

As an Achiever you must learn to live with this whisper of discontent. It does have its benefits. It brings you the energy you need to work long hours without burning out. It is the jolt you can always count on to get you started on new tasks, new challenges. It is the power supply that causes you to set the pace and define the levels of productivity for your work group. It is the theme that keeps you moving.
Why do I tell you this? I've got issues. I'm always wanting the destination instead of just the direction.
Have you ever used the GPS on your phone to navigate somewhere? If you have and you didn't close the app before you got to your destination, it says two words that, combined together, are the epitome of what we really desire when praying for God's direction: you've arrived.
I remember a few weeks ago when I was navigating to a hospital to visit someone and when I was pulling up to the parking garage, my phone uttered those two words.
And I have to tell you, it was both funny and satisfying to hear.
Why Direction is Better
It's better to genuinely pray for God's direction rather than secretly desire a destination instead of His direction. But why?
God's direction grows our faith, dependence, and focus on Him.
A destination grows our faith, dependence, and focus on the destination.
If we knew the destination, if we knew the what, how, and when of everything in life, we'd be master planners. We wouldn't go to the throne of the Master.
God's Direction For Us
Whenever I'm praying for God's direction, I can always rest assured that He has surely given me direction for life. It is made up of three things:
Love God with all my heart, mind, soul, and strength.

Love others as I love myself.

Make disciples.
If we stick with that, and genuinely pray to our Father for direction, we can always count on receiving direction. Maybe we've felt like we're not getting an answer because He knows we're really just seeking the destination.
Embrace the tension of only knowing the direction and not the destination.
---