All throughout the New Testament there is a theme. It's a theme that should get more attention in Christian circles because it is foundational to understanding how someone can begin to live the way they are told to live.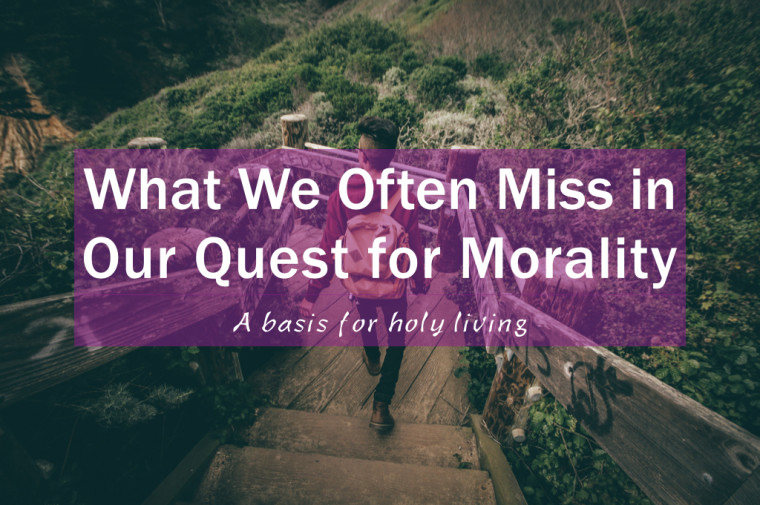 Jesus said things like turn the other cheek when someone hits you, if a person forces you to walk with them a mile then go with them for two, if someone wrongs you then forgive them 70 times 7, and on and on… Jesus said that the Jesus way is a way that is counter-intuitive, and counter-cultural.
Paul, in his writings, often says to put away all evil things that are inside of you. He talks about a laundry list of sins in his letters so that he doesn't leave anyone out. These passages are quoted a lot and read a lot by Christians. They are given a lot of attention when speaking out against society's ways.
But there's a vital thing missing when only the morality passages are read without considering that which comes before. It's a common mistake people make when studying the bible to read a passage outside of its immediate context, but that is what is often done. And it's to our detriment of understanding the foundation of holy living.
What We Often Miss in Our Quest for Morality
As a case study, let's look at the sequence Paul follows in his argument for holy living in Colossians 3. He wants the Christians in Colossae to live in God's best for them. Let's see how he goes about it.
Colossians 3

If then you have been raised with Christ, seek the things that are above, where Christ is, seated at the right hand of God. 2 Set your minds on things that are above, not on things that are on earth. 3 For you have died, and your life is hidden with Christ in God. 4 When Christ who is your life appears, then you also will appear with him in glory.

5 Put to death therefore what is earthly in you: sexual immorality, impurity, passion, evil desire, and covetousness, which is idolatry. 6 On account of these the wrath of God is coming. 7 In these you too once walked, when you were living in them. 8 But now you must put them all away: anger, wrath, malice, slander, and obscene talk from your mouth. 9 Do not lie to one another, seeing that you have put off the old self with its practices 10 and have put on the new self, which is being renewed in knowledge after the image of its creator. 11 Here there is not Greek and Jew, circumcised and uncircumcised, barbarian, Scythian, slave, free; but Christ isall, and in all.

12 Put on then, as God's chosen ones, holy and beloved, compassionate hearts, kindness,humility, meekness, and patience, 13 bearing with one another and, if one has a complaint against another, forgiving each other; as the Lord has forgiven you, so you also must forgive.14 And above all these put on love, which binds everything together in perfect harmony.15 And let the peace of Christ rule in your hearts, to which indeed you were called in one body. And be thankful. 16 Let the word of Christ dwell in you richly, teaching and admonishing one another in all wisdom, singing psalms and hymns and spiritual songs, with thankfulness in your hearts to God. 17 And whatever you do, in word or deed, do everything in the name of the Lord Jesus, giving thanks to God the Father through him.
If you who are listening to this letter being read, Paul declares, and have been raised with Christ (if you are a Jesus follower), then seek the things where Christ is. Have heavenly things be your focus. Don't focus on earthly things. That is not where your focus is, for you have been raised with Christ, not raised with this world.
Why? Because you have died! Your life is actually in Christ. It is only found in Him, it is not found in any other place. He is the source of your new life because your old life is gone, dead and gone. You have a promise, then, that when Christ appears in glory, you will join Him. Why? Because your life is in Him and nowhere else. His life is the territory in which your life resides.
In light of that basic, yet profound and amazing truth, put to death the sin that is in you. Get rid of that which is earthly in you. YOU HAVE ALREADY DIED TO THESE THINGS! You have already put off the old self that was dominated by these evil desires.
Christ has united you all by putting to death your old selves and raising you all together with Him. The Church is a body of people who have their lives in Christ and nowhere else. This is what allows you to live the life God is calling you to live. Your old self is gone and the new has come.
A Basis for Holy Living
Do you see the argument Paul is making? Before you can live the life you are called to live, you have to die to your old self and the only way this is to happen is to have Christ be your life. In other words, when you become a Christ follower, your old life is gone and the new has risen. Your life is now found only in Christ Jesus.
This is your new reality and the reality in which you should live. 
Implications
Whenever you see a shortcoming in your own life, you must go back to your identity. This is who you are: a person who is redeemed by God and is given life in Christ. You live in Christ and He lives in you. Therefore, you are able to put to death the things that hindered you in your past and still creep into your life in the present. 
Holy living comes from understanding who you are in Christ. Your spiritual reality points you to right living.
So in all this, understand that it is because of Jesus Christ that your life is changed. It is because of Him that you will experience more change. It is because of Him that you are able to live a different way now.
The goal of the Christian life is not to live right, but to live in Christ. If you have that down, you'll end up living right, but it is only a by-product, a natural result, of living in Him.
True morality comes naturally from following Jesus and living in Him. You can't get to a true morality without Him. We shall never forget, however, that morality is not the goal but the result of the goal. 
The goal is Christ. It always has been and always will be. It's time we made Him the goal again and let morality come out of a life that is reaching for the goal.
Engage Culture With the Gospel
I'd love to go on this journey of following Jesus with you and help you engage culture with the gospel. So let's be email friends. I'd love to send you a copy of my two free eBooks: Bible Hacks: Understanding the New Testament and Do Something: Cultural Crises and the Gospel. And I'd love to give you my free daily devotional: Journey to Knowing God. You'll get all this (and updates with new content) when you subscribe to the blog.