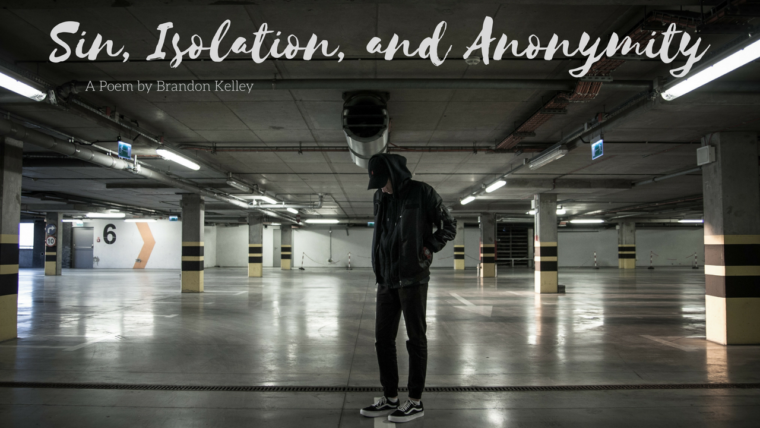 Isolation and Anonymity.
These are two places in close proximity.
In the right times, arrival there can be beneficial.
In a world full of noise, Isolation can tune us to the key of the Spirit.
Anonymity can teach us that a good deed doesn't need to be self-promoted.
But we don't often operate in the dimension of the ideal.
Instead, we run to these places when we don't want to feel.
When we have sinned, we don't want to confess to another.
We want to run to Isolation where there is no room for our brother.
We want to take up residence in Anonymity, where sin becomes our father.
But Christ beckons and calls.
He leads us out of our latest fall.
Get in, let's go for a ride.
Let's get off this path of pride.
Where are we going?
Where are we heading?
We are accompanied to a mansion and in that mansion is a living room.
We walk through the foyer, hang a left, our curiosity greatly looms.
We are welcomed by a large group of people, their attention on us zooms.
We quickly realize, our destination places are nowhere near.
Our gut is becoming overcome by dread, stress, and fear.
This living room doesn't offer a path to Isolation and Anonymity.
But we try. Our only option is pseudonymity.
The problem is pseudonymity is a failing option, for here we are known.
Relief wells up and we realize our dread, stress, and fear were overblown.
This living room is more than a room full of people, it's the room of the living.
Peace and hope shower over us like a downpour on a spring day, life-giving.
We see that this living room is a safe place to come clean, to begin confessing.
This doesn't make any sense, we don't know who these people are.
But something in us drives us to them, and for clarity sake, we hadn't been to a bar.
This sober compulsion was coming from a deep place within us.
Like this drive wasn't just within us, but a part of us.
The room of the living becomes the place where we remove our shackles.
This is what we have done, we can't hide anymore, will you help us fight these battles?
Time after time, we realize we are not alone.
The fight we're in, we shouldn't be going solo.
After all, in Christ, we have grace today and grace tomorrow.
When we were at our lowest, headed to two places that would harm us,
Christ beckoned and He called us.
Run to me, I'll be with my bride. I'll be with you. Always.
---
Engage Culture With the Gospel
I'd love to go on this journey of following Jesus with you and help you engage culture with the gospel. So let's be email friends. I'd love to send you a copy of my two free eBooks: Bible Hacks: Understanding the New Testament and Do Something: Cultural Crises and the Gospel. And I'd love to give you my free daily devotional: Journey to Knowing God. You'll get all this (and updates with new content) when you subscribe to the blog.