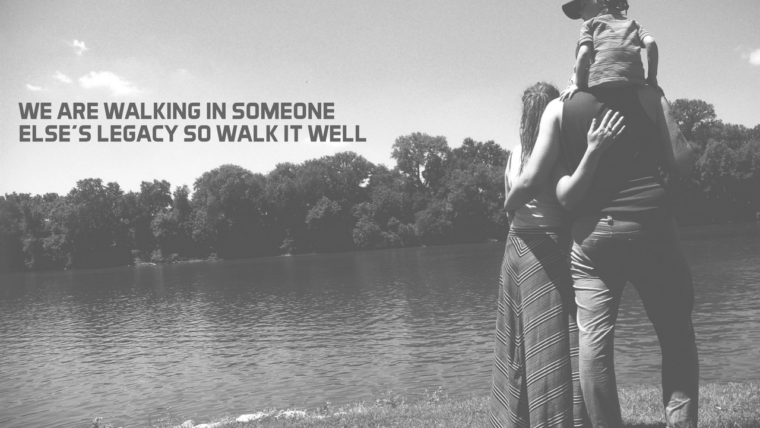 Have you ever discovered something new about your family history that really surprised you? I have. And as I think about it, I can't help but think about God's sovereignty and kindness through the ages.
This past Christmas, we went to Fort Wayne, Indiana (my hometown) like we do every year. We stayed at my grandparents' home – Nan and Pop's home, that is. While we were there, Nan and I had a conversation that shed some light on our family history that, up to that point, I wasn't fully aware of (or didn't remember fully).
We Are Walking in Someone Else's Legacy So Walk it Well
Standing in the kitchen – where all the good conversations happen – she told me about a Bible that she would love for me to have. As she said this, my immediate thought was that I have a ton of Bibles. But I snapped out of my urge to quickly make that fact known and continued to listen.
She told me that the Bible had belonged to her dad and she wanted me to have it. As she spoke, her smile grew larger.
I was intrigued.
"Can you tell me about your dad?" I asked.
Her smile grew larger. And this is what I learned.
A Legacy I Was Walking in and Didn't Even Realize it
My great-grandfather was a pastor in Tennessee where he planted a church and preached for five years. He didn't go to Bible college. He didn't have any other formal training. He just loved the Lord and wanted to see others encounter his loving Savior, too.
They began meeting under a tent outside under the hot Tennessee sunshine. Eventually, they would acquire a building to meet in. And then another one. That second one still stands today and is still the gathering place for Christ followers in Knoxville, Tennessee.
Unfortunately, ministry put a strain on him and my great-grandmother. She wanted him to quit. And any pastor will tell you if both spouses aren't fully committed, you'll become a ministry rather than be a minister. So he and the family moved up north in search of a new start, now as a former pastor.
What he was able to do for five years, I pray I am able to do for the rest of my life.
In fact, this fall will mark six years of being in vocational ministry for Sara and me.
The legacy my great-grandfather began, as it turns out, continues today through me. And that is quite humbling.
The Legacy We Are Walking
I don't know your family history. I barely know my own.
But what I do know is that whatever your family history is – good, bad, or both – you are walking in their legacy – not just your own.
Whenever we think about legacy, we often think of it in terms of our legacy and what proceeds from us and forward into the future. But when we limit legacy to just that, we are missing the broader story of what God is doing.
The legacy we are walking is the legacy of those who have come before us and those who will come after us.
When we begin to think of legacy in the proper way, we'll achieve an awareness of our true smallness.
And that awareness is a gift. It's not all about us. It's not all about who comes after us. And it's not all about who came before us.
But it is all about God and His glorious grace. It's all about the God who allows us to walk in a legacy, in a story, that spans from Adam to Noah to Christ to great-grandparents to children to great-grandchildren and so on.
Christ may not be in our bloodline, but His blood lines our legacy with hope and grace.
We are walking in someone else's legacy so walk it well.
It May Be Even Deeper Than That
Ultimately, the legacy we are walking is the same legacy our descendants walked in. Whose legacy?
The legacy we are walking in is the legacy of the loving Creator God who breathed and breathes life into existence. He decided one day to paint, to create. And we are His creation who are playing a part in His creative expression.
But from there, we have two choices. We can follow Him and give our lives to Christ, becoming new creatures, "created in Christ Jesus to do good works, which God prepared in advance for us to do" (Ephesians 2:10). Or we can decide to go our own way.
When we choose Christ, we are walking in God's legacy, so let's walk it well. Together.
Jesus told him, "I am the way, the truth, and the life. No one comes to the Father except through me." – John 14:6, CSB
---