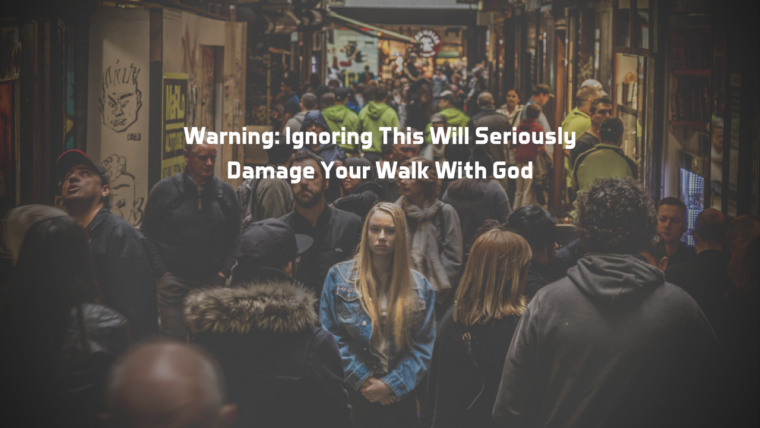 No. This isn't a scare tactic. It's real. In our Western society and way of thinking, we've been boldly convinced we don't need this. And the crazy thing is we often think we're not ignoring it because we can see a faux representative of it. But what is it?
Authentic biblical community. The kind of community that is different than any other community you could be a part of otherwise. The kind of community that causes the looking world to stop and wonder how it works. Yes. Authentic. Biblical. Community.
Warning: Ignoring This Will Seriously Damage Your Walk With God
Authentic biblical community is a kind of community that is brought together, knitted together, and woven together by the gospel of Jesus.
It's the kind of community that defies logic.
What flows from it, in it, and to it are relationships that are completely unlikely.
Race? That barrier is gone.
Class? Gone.
Sex? Another barrier that is gone.
Age? It's not a barrier to this kind of community.
The world looks at this kind of community – that is only possible by, through, and to Christ – and is dumbfounded at the closeness, the camaraderie, the togetherness, and the unlikeliness of it all.
How is it possible? Racism, classism, sexism, and ageism were crucified on the cross of Christ. All the barriers we have ever constructed between one another have been broken down with divine precision.
There is neither Jew nor Greek, there is neither slave nor free, there is no male and female, for you are all one in Christ Jesus. – Galatians 3:28


Don't let anyone despise your youth, but set an example for the believers in speech, in conduct, in love, in faith, and in purity. – 1 Timothy 4:12
Yes. Ignoring this will seriously damage your walk with God.
If the people you spend time with are the people you would spend time with whether or not Christ has changed your life, you're ignoring authentic biblical community.
A New Family We Didn't Choose
You know the saying, we're stuck with family, but we choose our friends. Or something to that effect…
The world is a foster home. The church is the home of adopted sons and daughters. A new family. A blood-bond deeper than the family we were born into.
Christ, God's son, came to this messy place to make a way for all of us orphans to be adopted into God's family. All as in all.
The Lord said to Abram:

Go out from your land, your relatives, and your father's house to the land that I will show you.
2 I will make you into a great nation, I will bless you, I will make your name great, and you will be a blessing. 3 I will bless those who bless you, I will curse anyone who treats you with contempt, and all the peoples on earth will be blessed through you. – Genesis 12:1-3
Are you a Christ follower? Are you a person who has been radically rescued and transformed by God? Hello, my brother. Hello, my sister. We've got the same Father.
14 For all those led by God's Spirit are God's sons. 15 You did not receive a spirit of slavery to fall back into fear. Instead, you received the Spirit of adoption, by whom we cry out, "Abba, Father!" 16 The Spirit himself testifies together with our spirit that we are God's children, 17 and if children, also heirs—heirs of God and coheirs with Christ—if indeed we suffer with him so that we may also be glorified with him. – Romans 8:14-17
God's church was God's mission, of which you and I are a part. God's family has been expanded. Yes, church = family. Local, regional, global. Yes, church = family.
Limitations of Interest Groups in the Church
Authentic biblical community goes beyond interests. When we constantly pursue interest-based community, we elevate our interests above Christ.
If interest groups are our only form of community with the body of Christ, then we have neglected the life-changing, sanctifying power of Christ-centered community.
Instead of interest groups being our main source of community with other believers, let us lay down our preferences and our interests and step into the deeper things of the Christ-shaped life.
Sure, interest groups can provide value. But they should never, ever, ever be our main source of community with the body of Christ, the church, our family.
Why? Because the interest is the focus. And when anything other than Jesus is the focus, guess what happens. Barriers return.
A Family Like No Other
No other kind of community compares to the multi-interest, multi-ethnic, multi-generational, multi-status family of God.
In this family, the rich and the poor live life together and mutually support each other.
In this family, old, young, and everyone in between learn from each other.
In this family, we are not color-blind, we are color-blessed, as Derwin Gray has said.
In this family, sports fanatics and sports avoiders are brought together.
God's family is a family like no other. It's a family that shows the world what God's heart is for all people. It's a family filled with people who are different from one another but brought together by the blood of God's Son.
We need this to be the case in our churches. We need each other. We need to listen to and do life with those who are unlike us. Because it's in our diversity that we display, even more fully, God's mercy.
What Do We Do From Here?
I don't know what your context is. But I do know that you can be intentional in pursuing authentic biblical community.
Your local church likely has small groups or Sunday school classes. Join a group or a class that isn't filled with people like you. Lay your preferences down and embrace authentic biblical community. And then urge others to do the same.
A Spoken Word on the Topic:
What Will You Do to Live in Authentic Biblical Community?
I'd love to hear from you in the comments below or on social media: Facebook | Twitter.
And hey, do you have someone in your life you could share this with? If so, would you do that?
Let's Grow Together and Engage Culture With the Gospel
I'd love to go on this journey of following Jesus with you and help you engage culture with the gospel. So let's be email friends. I'd love to send you a copy of my two free eBooks: Bible Hacks: Understanding the New Testament and Do Something: Cultural Crises and the Gospel. And I'd love to give you my free daily devotional: Journey to Knowing God. You'll get all this (and updates with new content) when you subscribe to the blog.