Today and tomorrow, for people all over this country and all over the world, are days of expectancy. For two full days, we will take part in the 2016 Global Leadership Summit by the Willow Creek Association. If you're not familiar with the conference, it's one of the most popular on leadership in the country. There's much reason for those of us attending to be coming to the table with plenty of expectations. But these expectations we bring shouldn't be exclusive to today and tomorrow.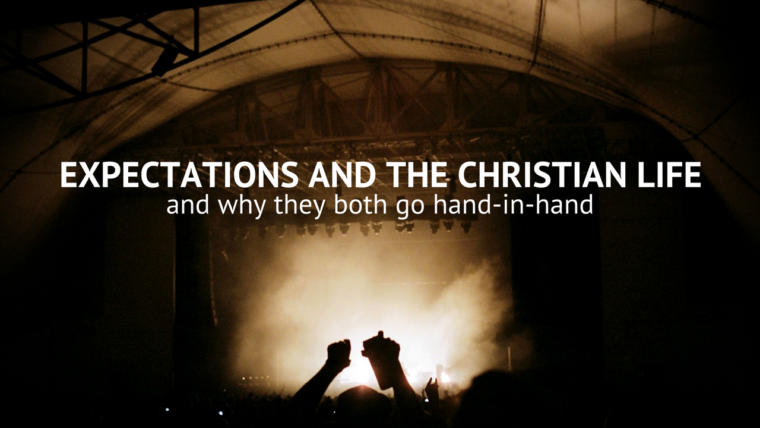 Today, I anticipate learning a lot. I anticipate having to be stretched outside of my comfort zone – I'll be attending the conference by myself, so I'll either be mute or I'll start a conversation with someone near me. I have great expectations for the conference, but shouldn't we all have expectations for each day we are granted life? That question got me thinking…
Expectations and the Christian Life
Do we, out of a desire for greater mountaintop experiences, shortchange the everyday, the mundane, the regular flow of life? Whether we're aware of it or not in our own lives, our culture of flash, status, bigger, and better has affected the way we approach everyday life. Social media and technology have certainly perpetuated the problem as well. The Christian life is much more about following Jesus through the mundane than it is about following Him in the spotlight. 
Many pastors will be at this conference and will be coming with great expectations. They'll expect to have God do a mighty work in them and the attendees. That's a great thing to expect. But I wonder if those same pastors, myself included, have a sense of expectation when the Church gathers. 
Many business leaders will be at this conference and will also be coming with great expectations. They'll expect to hear the leadership nugget that will propel them further than they thought possible. That's also a great thing to expect. But I wonder if those same business leaders have a sense of expectation when they meet with a peer or a mentor for coffee.
We all have a tendency to raise our expectations at events, conferences, and other special occasions. That's the whole point to why we would pay a hundred or more dollars to attend one of these things. And there is certainly no problem with having expectations when we approach special events or conferences, but we're missing the fact that the Christian life has a great reason to have great expectations every single day.
Why Expectations and the Christian Life Both Go Hand-in-Hand
God has certainly anointed different people in this world to share wisdom, practical insight, and to inspire others to action. This is why we pay money to gather with other expectant people to sit in rows, listen, take notes (which I'll be posting my notes to my ministry site, RookiePreacher.com in case you want to follow along), and walk away motivated to apply something to our own context and leadership. 
But what if we're missing something better inside ourselves every single day? What if we could approach the mundane moments of life with the same expectations we approach the big conferences and the guru workshops? I think it's possible. Even more, I think it's vital.
If you were to ask me what my favorite chapter of Scripture is, I'd probably say Colossians 1. In it, the Apostle Paul lays out who Jesus really is, how big He is, and he then drops a bomb in revealing a mystery that was revealed post-resurrection. What is that mystery? Quite simply this: Christ in you, the hope of glory. 
Do you get this?! Just look at the things he says about Jesus:
He is the image of the invisible God (Col. 1:15)

All things were created by Him, for Him, and through Him (Col. 1:16)

He holds all things together (Col. 1:17)

He is preeminent (Col. 1:18)

In Him, all the fullness of God was pleased to dwell (Col. 1:19)

He has made peace by the blood of His cross – reconciling all things to Himself (Col. 1:20)

He presents us holy and blameless through our faith in Him (Col. 1:21-23)
After all this, Paul lays it on us. Jesus has now made into reality a great mystery – He now dwells in each one of His followers. 
Be Expectant
Every day, then, we can approach life with great expectations. The Christian life is a life of expectations because of the profound reality that Christ is dwelling in that life. He is molding us like the potter molds the clay. He is guarding us. He is gifting us. He is teaching us. He is interceding for us. 
No longer do we need to approach the day without expectations. God is our conference speaker all day every day. 
We may be amazed at the wonderful speakers at conferences, but God is better.
We may be amazed at the profound wisdom shared, but God's wisdom is greater.
We may be amazed at the grand vision given, but God's vision is eternal.
So then, let us approach the Christian life with great expectations on a daily basis whether we'll be at a conference, changing diapers, visiting the sick, inputting data, attending meetings, reading and responding to more email, or anything else. Every day is a learning experience when "Christ in you" is your reality.
Be expectant.
Want More?
If this article resonated with you, subscribe to the blog. As a way of saying thank you, I have a gift to send you. It's called Journey to Knowing God. It's a 28-day daily devotional that features 4 audio sessions and 24 daily prompts. It will help you experience God in a real way every single day. Let's connect!