This coming Monday marks another celebration of Labor Day. What began in 1885 has continued to today. As a result, millions of Americans will enjoy a three-day weekend. In the midst of the sleeping in, the cookouts, the kids playing outside, and all the other stereotypical Labor Day festivities, the Christian worker has something else to consider.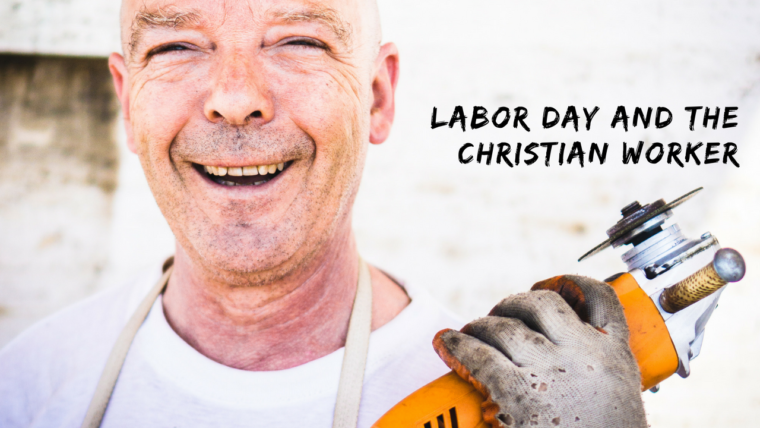 How Christ alters the way we approach our work has been of constant interest to me since becoming a Christ follower. From what I can see in Scripture, it is clear that work is something we were made to do. Adam and Eve were given the task of gardeners and since then, work has been a way of life for mankind. What shall the Christian worker think on and respond with as he celebrates Labor Day? I'm glad you asked…
Labor Day and the Christian Worker
According to the United States Department of Labor, Labor day "is dedicated to the social and economic achievements of American workers. It constitutes a yearly national tribute to the contributions workers have made to the strength, prosperity, and well-being of our country." So that is where we could go when thinking on and responding to our Monday off from work, but I believe there is something better to focus on.
23 Whatever you do, work heartily, as for the Lord and not for men, 24 knowing that from the Lord you will receive the inheritance as your reward. You are serving the Lord Christ.
What you have just read is Colossians 3:23-24, a passage that has been redeemed for the worker instead of the slave. The context of this passage, while often ignored when quoted (because let's be honest, who wants to talk about words to slaves in the Bible?), actually adds to the weight of the call. In the first Century, slavery was present in many households. It's important to note that a bondservant in the first century is much, much different than what we know from the Trans-Atlantic Slave Trade. Bondservants served their master for a period of 6 years, earning a wage, and a home to live in. After 6 years, they were set free unless they chose to stay, which doing so was common. 
But how does the context of Colossians 3:23-24 add to the weight of the call? The Apostle Paul, when he wrote these words to the Christ followers in Colossae, wanted them to understand that any work we do, even if we are doing work for a literal master, is to be done for the One True Master – Christ. And this should change everything for us and our work.
Input and the Christian Worker
Labor Day should be a reminder that work is a gift from God and that working is fundamental to our existence as human beings. No matter the trade or industry, the very fact that we get to work should propel praise going up to God. 
And this goes beyond jobs and employment. Stay-at-home parents get mad props from me. After all, they work the hardest. Raising kids isn't for the faint-hearted. 
What we should see from Scripture's teaching on work is that our true boss, our true supervisor, our true CEO is not the man or woman with the title, but the King of kings who sits on the throne in heaven. How much, then, should that inspire us and compel us to do our best work every day?!
I've said it many times (here and here, to name two) and I'll say it again, the Christian worker should be the best worker. Our relationship with God and our knowledge of His word should guide our input we give to our work.
7 Things the Christian Worker Should Do
We should work hard.

We should work with integrity.

We should thank God for our work. 

We should develop our knowledge to do better work.

We should see the purpose in the specific work we do.

We should be at peace with all our co-workers.

We should be lights that point to Christ.
Flip the Script if the Script Needs Flipped
If you are the person who dreads Mondays and thanks God only for Fridays, then consider flipping the script that you are following when it comes to your work. My prayer is that you will see the work that you do as work that you do for the Lord. And out of that perspective, Mondays will begin to be a gift just as much as Fridays. 
So, to my fellow Christian worker: let's enjoy Labor Day, but let's enjoy our labor, too.
Want More?
If this article resonated with you, subscribe to the blog. As a way of saying thank you, I have a gift to send you. It's called Journey to Knowing God. It's a 28-day daily devotional that features 4 audio sessions and 24 daily prompts. It will help you experience God in a real way every single day. Let's connect!