We live in a world that is both beautiful and broken. It is both peace-filled and pain-filled. It is both love-filled and hate-filled. We live in a world that is complicated. And sometimes we face impossible situations. For those facing troubles right now, you feel what I'm referring to. When we face troubles, real troubles, it's easy to be consumed by them – to feel as though there's no escape from them.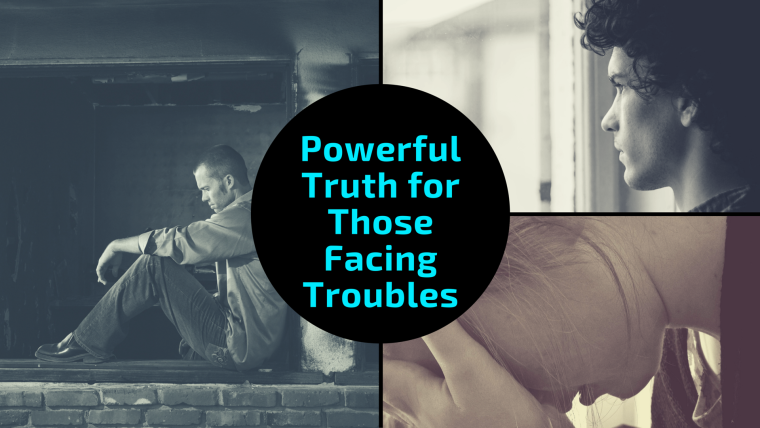 Often times, we don't know how to react to the troubles we face. We don't know how to conduct ourselves, how to handle people's concern, how to move forward in the day. We search for God-honoring thoughts, but the only one that comes to mind is, "why". Luckily, God does not leave us without hope, without encouragement in the face of our troubles. 
Powerful Truth for Those Facing Troubles
On the night of His betrayal and arrest, Jesus spoke these words to the disciples:
"I have said all these things to you to keep you from falling away. 2 They will put you out of the synagogues. Indeed, the hour is coming when whoever kills you will think he is offering service to God. 3 And they will do these things because they have not known the Father, nor me. 4 But I have said these things to you, that when their hour comes you may remember that I told them to you. – John 16
Not only do Christ followers need to be aware of the regular troubles of life, but also of the specific troubles that come by following Jesus. There will be a time, which it has been here, and was there shortly after He said those words, that people will kill His followers (and Him). 
For our brothers and sisters in Christ who live in other countries, especially Militant Muslim and Hindi countries, they know the real danger they face. People desiring to kill them AS SERVICE TO GOD is a real life danger. Suicide bombers, gun attacks at churches, beheadings, rapes, etc… These are all things that people today face for following Christ. 
Fast forward a bit and Jesus says these words:
33 "I have said these things to you, that in me you may have peace. In the world you will have tribulation. But take heart; I have overcome the world." – John 16
In the world, the disciples would have trouble. They were crucified, beheaded, stoned, imprisoned, fed to lions, burned at the stake, and beaten. They were killed because they aligned themselves with Jesus. 
Jesus knows what will happen to His disciples. But notice what He says they can live with in the midst of trouble – "take heart; I have overcome the world."
In other words, the world's troubles don't have the final say, Jesus does. 
Jesus reigns supreme over the world's temptations and troubles.
Jesus reigns supreme over sin and death.
Jesus reigns supreme over all creation.
Jesus reigns supreme over all.
Jesus is greater than we can imagine. 
Every Day Troubles
We may not be killed because of our faith (we may, though), but we surely face every day troubles of life.
Sickness. Death. Hurt. 
What shall we do? To whom shall we turn?
The One who has overcome this beautiful, yet broken world – Jesus.
In Him is life. Abundant life. 
In Him is peace. True peace.
In Him is hope. Eternal hope. 
Jesus has overcome the world. That is the powerful truth for those facing troubles. No matter the trouble you face, take heart; Jesus has overcome the world. 
Want More?
If this article resonated with you, subscribe to the blog. As a way of saying thank you, I have a gift to send you. It's called Journey to Knowing God. It's a 28-day daily devotional that features 4 audio sessions and 24 daily prompts. It will help you experience God in a real way every single day. Let's connect!