Rejoice! What causes you joy? What gives you the feeling that something great is happening or is going to happen? Is it football season? Is it your report card? Is it the bonus at the end of the fiscal quarter? Is it family gathering? Is it family dispersing? We may not use the word, rejoice, but it is present in our lives. What we rejoice about the most says a lot about what lies beneath the surface of our lives.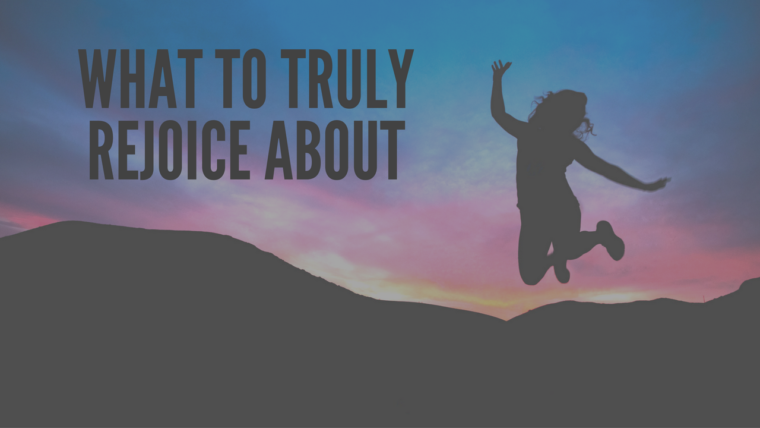 Jesus has a way of teaching us these things with great power and effectiveness. To teach this to the many people who were following Him when He was in the midst of His ministry, He sent 72 of them out into the towns of Israel to proclaim the Good News of the Kingdom and to heal the sick and lame.
What to Truly Rejoice About
To be sure that the disciples had God as their focus and His power as their guide, He said this, "Go! I am sending you out like lambs among wolves. Do not take a purse or bag or sandals; and do not greet anyone on the road" (Luke 10:3-4). Jesus made them leave everything behind that would have been an aid to their survival and comfort. He wanted them to know exactly who would sustain them on their journey. 
Then He gave them specific instructions for when they were visiting towns and homes. Then He sent them on their way. And after some time, they returned.
"The seventy-two returned with joy and said, 'Lord, even the demons submit to us in your name'" (Luke 10:17). They returned with joy. They were ecstatic (and so would we) that demons submitted to them in Jesus' name. They returned with a great sense of satisfaction because of the work they had done in Jesus' name. And certainly, Jesus was pleased that they enjoyed their mission trip so much…I love Jesus' opening line response, "I saw Satan fall like lightning from heaven" (Luke 10:18), in other words, I know the truth about Satan AND I have all power over him. Just a little smashmouth spiritual smack talk.
Jesus goes on to acknowledge all the things He gave the seventy-two authority over, but this is all followed by a "however." A big one.
Something Better Than Power and Authority
"However, do not rejoice that the spirits submit to you, but rejoice that your names are written in heaven" (Luke 10:20).
Jesus isn't interested in His followers rejoicing first about the things they do in Jesus' name, even if that is casting out demons, rather, He is interested in His followers rejoicing in the gift He has given them – salvation.
What seems like an elementary plea for hope in the right place causes Jesus to break out in praise to the Father. He praises God that the truth of what He has just said has been revealed to little children instead of the wise and learned. 
Don't miss this connection. Jesus praises God that this simple truth, that rejoicing in our citizenship in heaven is more important than rejoicing in the power and authority we have in this world, has been revealed to people who were not society's best and brightest. Why is that? Well, for starters, the best and brightest have a hard time in rejoicing in anything but their own accomplishments. It takes great humility to rejoice more in something that we didn't earn than something that we did. 
It's a subtle thing, really. We can convince ourselves and others around us that our rejoicing in what has been done by our hands is really just us praising God for what He has done through us, but Jesus is saying that we ought to keep one thing central – what He has done for us.
Let's Rejoice
Rejoice that your names are written in heaven. What a beautiful truth! In heaven, a book contains your name, if you are in Christ. It's not in your handwriting. It's not your signature. It's in the handwriting of the King of kings and Lord of lords. The book is signed by the victorious Savior – stamped and approved to bring about life eternal for all who are written within its binding. 
When you begin drifting to rejoicing in what you have done for Jesus today, or in Jesus' name today, slow down and simply rejoice in the salvation that Jesus has brought to you. Rejoice in His work rather than your own. 
"Rejoice in the Lord always. I will say it again: Rejoice!" – Philippians 4:4
Want More?
If this article resonated with you, subscribe to the blog. As a way of saying thank you, I have a gift to send you. It's called Journey to Knowing God. It's a 28-day daily devotional that features 4 audio sessions and 24 daily prompts. It will help you experience God in a real way every single day. Let's connect!